Arylic S10 Wifi & Bluetooth 5.0 Preamplifier
This item ships within 3 – 5 working days*
(As much as we strive to quicker than 3 – 5 working days, please allow for potential delays during busier times – this will be communicated once your order is processed. *If you are in an outlying area, delivery could be delayed and take up to 10-14 days.)
Free Nation-Wide Delivery When You Spend R2000 Or More.
100% Satisfaction On Exchanges Or Returns.
Money-Back Guarantee On Products Returned Within 7 Days.
5-Year Warranty On Home Theatre Speakers.
2-Year Warranty On Receivers & Wireless Speakers
Enquire About This Product
Arylic S10 Wifi & Bluetooth 5.0 Preamplifier Description:
Wireless Mini Stereo Preamplifier
With S10 preamplifier Integrated, You can stream your audio wirelessly to your speakers by Wifi, Bluetooth 5.0, Airplay, DLNA & UPnP. And no matter where you are in your house, you can always take out your phone to play a song for you or your family. Like play a Bedtime Story for your Children, a love song for your wife, easy and wirelessly.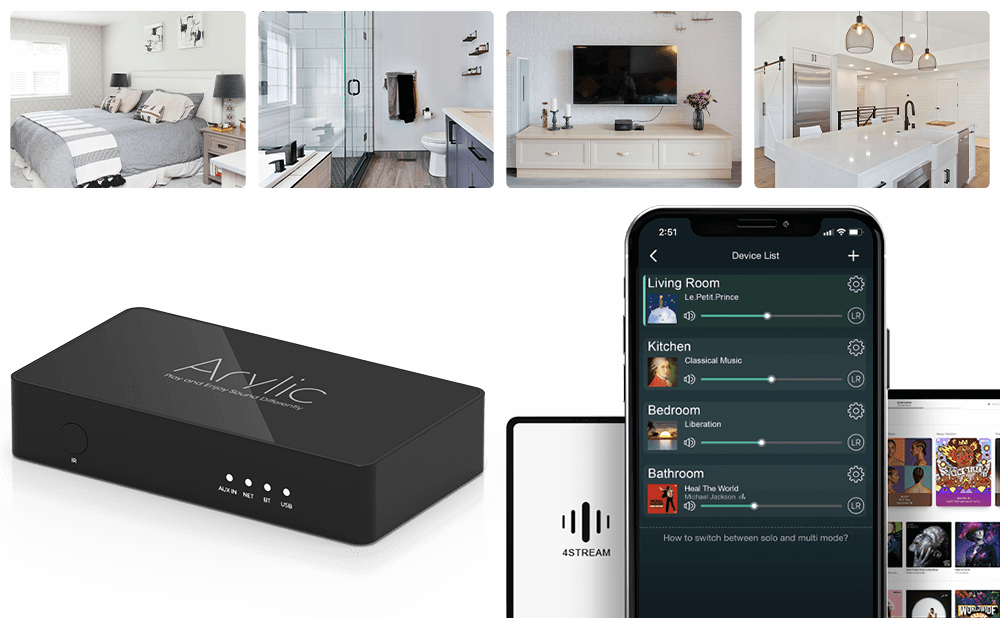 Rookie Recommend
S10
---
Your Economical Preamp
Micro USB Sound Card

S10 is equipped Up2stream Pro V3 audio receiver board inside, so it can work as an USB DAC. You can directly connect it to a PC and stream PC audio digitally.

Compact Design

Mini size smaller than your hand and simple design, these features make S10 easy to fit your home style and save space.

Easy to Use

If you are a Rookie with wireless audio system. S10 is your best choice to familiar with the wireless technology by economic way. Build up your wireless home stereo system only need 30 secs.
Upgrade All your Stereo into Wireless system

S10 is compatible to common stereo devices like Amplifier, Vinyl, active speaker and TV. By S10 preamp, you can streaming audio and control sounds wirelessly.
All Music you like

Huge music resources supported like Spotify, Pandora, Amazon Music, Tidal, Deezer, Qobuz, Internet Radio, iheart Radio, Napster etc. Other than online music, you also can play local music by NAS, USB storage where you have collected your favorite song for years.

Wireless Connectivity

a

Streaming your audio all the way by Wifi, Bluetooth 5.0, DLNA, UPnP, Airplay, Spotify Connect.

Hi-Res Stereo Sound

S10 Preamp support 16bit/44.1khz audio streaming and up to 24bit,192khz decoding which means you can stream with High Resolution audio wirelessly. Enjoy your high quality

Free iOS & Android App

Our App called "4stream" that is compatible to your iOS & Android system. All the features can be simply controlled by App. And you also can receive the notification for our regular online firmware update automatically in our App.
Cute Price, but Powerful Features
With the same spec, S10 is the most price competitive device you can find in the market.
Specification
Wireless network
IEEE802.11 b/g/n 2.4G
Ethernet
RJ45 single 10/100M
Bluetooth
5.0
USB Host
2.0
Bluetooth Distance
30M
Power Input
5V-1A micro USB input
Audio Output
Analog 3.5mm mini jack
Frequency response
20Hz to 20kHz
Audio Input
Analog 3.5mm mini jack/Micro USB DAC
SNR
91dB
THD
0.03%
Music Format
FLAC/MP3/AAC/AAC+/ALAC/APE/WAV
Sample Rate
Decoding Up to 24bit/192kHz
Protocols
AirPlay, DLNA, UPnP, Spotify Connect, Qplay
LED
NET: White-power on/WiFi Mode
BT: Blue-Bluetooth Mode
USB: Red-USB Mode
Aux: Green-line input Mode
Dimensions
116.2mm*64mm*22.6mm(4.57*2.52*0.89in)
Weight
0.2kg(0.44lb)
Address
Parking Level 3, 183 Rivonia Road, Morningside, Sandton
Address
Shop LF106, Menlyn Shopping Centre, Atterbury Road, Menlyn, Pretoria
SOUND X PERIENCE KEMPTON PARK
Address
149 Monument Road, Aston Manor, Kempton Park
SOUND X PERIENCE VEREENIGING
Address
Inside Sedgars, 2 Leeuwenhoek St, Duncanville, Vereeniging, 1939