Get The Best Deal On This Premium Product – Contact Us
Description of the Monitor Audio W12 Subwoofer:
The Monitor Audio W12 Subwoofer delivers seismic bass right down to 22 Hz using a powerful, long throw 12-inch driver.
The Monitor Audio W12 Subwoofer over-specified driver assembly employs a hugely powerful magnet system and massive voice coil to deliver immense power from the compact sealed cabinet.
A heavy-duty diecast basket not only holds the massive system rigidly together but also assists thermal sinking to keep the driver cool.
For the Monitor Audio W12 Subwoofer Monitor Audio specified a 500-watt Class-D amplifier and power-supply module from highly-regarded amplifier specialist Hypex; this provides incredible headroom and utilizes advanced switch-mode power conversion techniques.
A powerful DSP has been employed to deliver the best performance and filter characteristics while running the unique APC (Automatic Position Correction) system.
The APC is a completely in-house development, designed to automatically correct for room modes.
It uses a microphone and test tones to calculate detrimental room modes and correct frequency response, optimizing it for the room and position.
This is a simple and quick automated process that is a complete revelation to the installer and ensures the user can enjoy the subwoofer quality without positioning restrictions.
At the heart of the Monitor Audio W12 Subwoofer lies a sophisticated 32-bit micro-controller, monitoring performance thousands of times per second, ensuring the system can deliver the best possible bass. It will never become over-driven or distorted, even at maximum power.
The Monitor Audio W12 Subwoofer 500 watt DSP controlled amplifier utilizes advanced switch-mode power conversion techniques and superior processing to increase dynamic control and deliver far greater head-room.
A sealed box construction ensures tight, fast and tuneful bass all the way down to a thunderous 22Hz in a typical room set up.
Delivering the best possible sound into your life is Monitor Audio's main aim. Whether from movies or your favourite music, with the Silver Series of technologically advanced loudspeakers you can be sure of quality so lifelike that it takes you to the heart of the performance.
With a pedigree in British hi-fi design, Monitor Audio speakers are crafted for perfection in sound, aesthetics and build quality.
Each of the nine Silver Series models has been meticulously created by engineers and craftsmen who are as passionate about music as you are.
As a result of over forty years of expertise in speaker development, this affordable family of sleek audio masterpieces takes performance to a new level of fidelity. Hi-fi and home theatre systems have never sounded this good.
CRAFTED FOR YOU:
Technology from Monitor Audio's flagship Platinum II range has been incorporated to reduce distortion, providing the purest mid-range performance.
The master of metal cone technology, Monitor Audio has invested in all-new drivers developed for this range.
Whichever Monitor Audio Subwoofer models you find the ideal for your environment, you will begin to rediscover your music and film collection as you've never heard it before.
Monitor Audio's Silver 6G Series:
Revered by audiophiles around the globe, Monitor Audio's award-winning Silver Series enters its sixth generation with a host of new features to make it the best-performing ever.
Taking hi-fi and home theater performance to a new level. The new Monitor Audio W12 Subwoofer series utilizes technological advances derived from Monitor Audio's top-of-the-line Platinum Series II.
It features a completely redesigned 1" gold dome tweeter for precise treble. And it looks as it is good as it sounds, offering stunning real wood veneer, piano lacquer, and contemporary satin white finishes to suit every setting.
Continuous Uninterrupted Dish Drivers:
Unlike conventional driver cones, the new C-CAM (Ceramic-Coated Aluminum/Magnesium) RST (Rigid Surface Technology) bass and midrange drivers take the form of a continuous uninterrupted dish.
Strengthened by a uniquely dimpled surface, their greater area radiates more sound, and driven by a larger voice coil and motor, delivers greater efficiency and a cleaner, more accurate response.
Now with APC for the perfect response in your room:
APC (Automatic Position Correction) is a unique Monitor Audio technology that uses a built-in microphone and test tones to optimize the subwoofer's response.
At the touch of a button the frequency response is ideally tailored for your room - so no more excessive bass 'boom'.
12 inch cone matched with 500 watt amp for huge bass:
When it comes to producing a cinematic bass that you can truly 'feel', little can beat the combination of a large bass cone and a powerful amp.
The Monitor Audio W12 Subwoofer has them both. The ultra long throw bass cone easily moves large accounts of air for a bass response that effortlessly recreates the most dynamic soundtracks and music.
The Monitor Audio Subwoofer is powered by a 500 watt, Class-D digital amp, high power is always available in an instant.
Highly controlled sound:
As well as being powerful, the Monitor Audio W12 Subwoofer is also highly controlled. Using a C-CAM (Ceramic-Coated Aluminium/Magnesium) cone that's rigid yet light gives a responsive bass.
The triple suspended driver gives ideal linearity for perfect control - even when the cone is fully extended.
Three pre-set EQ modes:
With Music, Movie and Impact modes you can easily change the characteristics of the subwoofer to match your mood. For the most subtle sound, choose Music.
A more dynamic sound is had with the Movie mode, making it ideal for the most intense action movies.
If you're in party mode or 
really
 don't like the neighbours, then switch to Impact for the most powerful sound possible!
High quality finish:
The Monitor Audio W12 Subwoofer is constructed from 25mm MDF (Medium Density Fibreboard) and heavily braced, the Monitor Audio W12 Subwoofer is built to resist cabinet vibrations. Finished in a selection of luxury finishes, including real wood veneers.
This is one subwoofer that doesn't need to be hidden out of sight.
Features of the Monitor Audio W12 Subwoofer: 
• Ultra long-throw 12-inch driver featuring 'dished' C-CAM cone
• Triple suspension for ultimate linearity ensuring control at high power and excursions
• Oversized black anodised 3-inch voice coil which provides high power-handling and low distortion
• Powerful 500 W RMS Class-D amplifier with switching power supply provides instantaneous delivery of high current when required
• DSP processing with all control features and crossover performed digitally
• Automatic Position Correction plus automatic room setup feature using a microphone for simple system optimisation
• USB for firmware updates
• Three preset EQ mode settings (Music, Movie, Impact)
• Premium handcrafted cabinets featuring quality real wood veneer finishes in Black Oak, Walnut, and Satin White.
Monitor Audio Silver W12 Technology:
Ultra long-throw 12-inch driver featuring 'dished' C-CAM cone
Triple suspension for ultimate linearity ensuring control at high power and excursions
Oversized black anodised 3-inch voice coil which provides high power-handling and low distortion
Powerful 500 W RMS Class-D amplifier with switching power supply provides instantaneous delivery of high current when required
DSP processing with all control features and crossover performed digitally
Automatic Position Correction plus automatic room setup feature using microphone for simple system optimisation
USB for firmware updates
Three preset EQ mode settings (Music, Movie, Impact)
12 V trigger provides switching control from AV amp or processor
Solid 25 mm-thick (1-inch) MDF cabinet construction
Heavy radial cabinet bracing
Top-mounted control panel and mic. input for easy access to main features
Selected premium-quality wood veneers in high-gloss lacquer and Satin White finishes
Specifications of the Monitor Audio W12 Subwoofer:
System Format Active Subwoofer
Low frequency response 20 Hz
Upper frequency response 40-120 Hz
Room Correction APC®
Power 500 Watts
Amplifier Class-D
Bass Alignment Sealed
Woofer 12″ C-CAM®, 3″ Long throw voice coil
Radiator – H x W x D 370 x 340 x 410mm
Weight 20.1 kg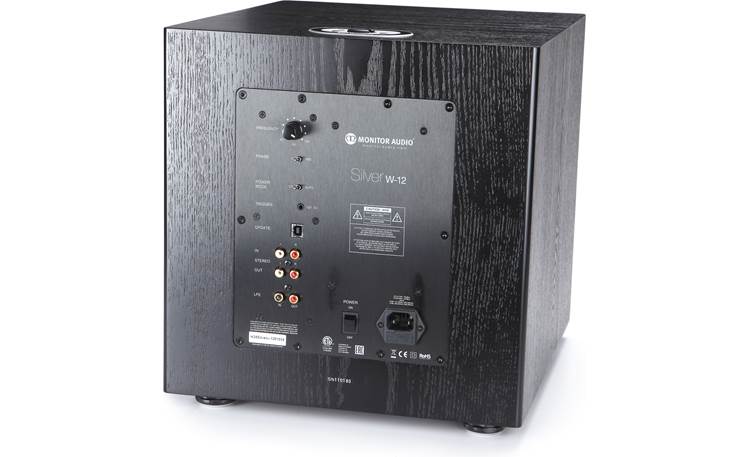 For more Monitor Audio products visit their website: https://www.monitoraudio.com/
Visit our website for more Monitor Audio products at the best prices: https://www.soundxshop.co.za/product-category/shop-by-brand/shop-by-brand-monitor-audio/
Address
149 Monument Road, Aston Manor, Kempton Park