Get The Best Deal On This Premium Product – Contact Us
Description of the Monitor Audio Silver FX Speaker: 
We carry lots of satellite and bookshelf speakers that can be used for side- or rear-channel sound effects. But most of them only project sound in one direction.
The Monitor Audio Silver FX Speaker are "true" surround sound speakers — each one uses two tweeters that fire in different directions, providing atmospheric special effects that make you feel like you're part of the action on the screen.
Monitor Audio Silver FX Speaker fulfills all your rear and side channel needs, it is a loudspeaker purpose built for 5.1 and 7.1 systems and incorporates Monitor Audio's state-of-the-art technology.
This wall-mounting small two-way construction provides dual dispersion features for a supreme surround sound system.
One of the favorite features of the Monitor Audio Silver FX Speaker is how adaptable they are to your room.
On the back of each speaker is a dipole/bipole switch that offers easy toggling between surround modes.
The dipole setting puts the tweeters out of phase, giving you a diffuse sound. That's ideal when you're placing the speakers to the sides of your listening area.
The Monitor Audio Silver FX Speaker setting puts the tweeters in phase, which gives you a more direct sound.
That's the best option for when the speakers are placed behind your listening position, or if you're using these speakers as part of an object-based surround system like Dolby Atmos® or DTS:X™.
Each Monitor Audio Silver FX Speaker cabinet houses two 1" gold dome tweeters for clear, detailed highs and realistic sound effects. A 6" C-CAM woofer delivers smooth midrange and punchy bass.
Monitor Audio Silver FX Speaker uses an advanced crossover network to ensure smooth, full-range sound throughout this speaker's frequency range.
Design:
The subtle profile and angled baffle design employ a single 6" C-CAM bass/mid driver with RST technology and C-CAM Gold Dome tweeter.
Flush-mounted on the side or rear walls, Silver FX blends seamlessly with your decor.
Effortlessly switch the dispersion characteristics to facilitate the exact requirements for dipole or bipole orientation, offering superior flexibility in multi-channel installations.
Revered by audiophiles around the globe, Monitor Audio's award-winning Silver Series enters its sixth generation with a host of new features to make it the best-performing ever.
Taking hi-fi and home theater performance to a new level. The new Monitor Audio Silver FX Speaker utilizes technological advances derived from Monitor Audio's top-of-the-line Platinum Series II.
It features a completely redesigned 1" gold dome tweeter for precise treble. And it looks as it is good as it sounds, offering stunning real wood veneer, piano lacquer, and contemporary satin white finishes to suit every setting.
Unlike conventional driver cones, the new C-CAM (Ceramic-Coated Aluminum/Magnesium) RST (Rigid Surface Technology) bass and midrange drivers take the form of a continuous uninterrupted dish.
Strengthened by a uniquely dimpled surface, their greater area radiates more sound, and driven by a larger voice coil and motor, delivers greater efficiency and a cleaner, more accurate response.
Silver Series:
Sit back and enjoy the combination of engineering excellence and fabulous design whatever your hi-fi or home theatre loudspeaker requirements.
Monitor Audio Silver FX Speaker brings stunning sound and design, which is the result of over 40 years of loudspeaker manufacturing to deliver precise audio with visual perfection.
Hear abundant dynamics, detailed textures, immense detail, transparency and pinpoint imaging.
Key Features:
- Discreet design with flush wall placement and with recessed terminations
- Sealed cabinet for accurate performance when installed in cabinet, restricted voids or close to a wall
- Dual 25mm C-CAM "dished" tweeters
- Neo magnet system tuned for lower distortion and cleaner-sounding highs
- 6" bass/mid driver with C-CAM cone for best damping and mid-range clarity
- RST Cone profile for improved diaphragm rigidity and lower distortion
Specifications of the Monitor Audio Silver FX Speaker: 
- System Format: 2-way
- Freq Response (-6dB): 60Hz–35kHz
- Sensitivity (1W @1M): 87 dB
- Nominal Impedance: 8 ohms
- Min Impedance: 4 ohms @229Hz
- Maximum SPL: 110dBA
- Power Handling (RMS): 85W
- Recommended Amp: 30-85W
- Bass reflex: Sealed cabinet
- Crossover Freq: 2.5kHz
- Bass/Mid: 6" C-CAM RST driver
- Tweeter: 1" (25mm) C-CAM Gold Dome
- Dimensions (HDW): 250 x 310 x 130mm
- Weight (each): 4.3kg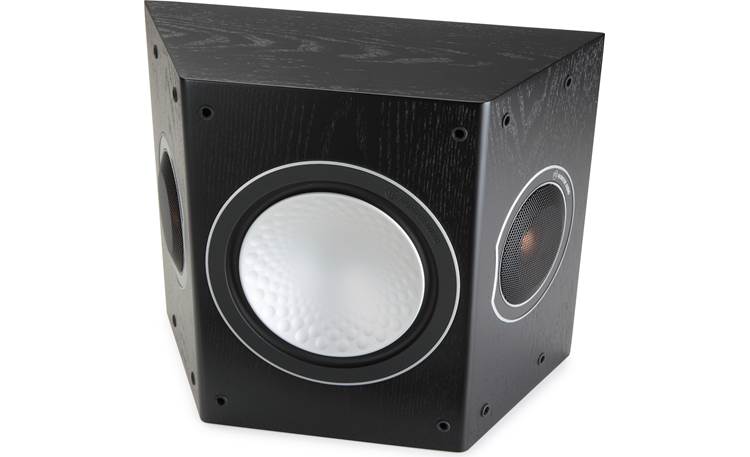 For more Monitor Audio products visit their website: https://www.monitoraudio.com/
Visit our website for more Monitor Audio products at the best prices: https://www.soundxshop.co.za/product-category/shop-by-brand/shop-by-brand-monitor-audio/
Address
149 Monument Road, Aston Manor, Kempton Park