Get The Best Deal On This Premium Product – Contact Us
Description of the Monitor Audio Silver 300 Speakers:
The Monitor Audio Silver 300 Speakers retains the familiar award-winning configuration of its predecessor, with several crucial improvements to drivers.
The full three-way design delivers class-leading mid-range, while a pair of long-throw 6-inch bass drivers work together to produce incredible power from the tall, but slim cabinet design, making it the perfect choice for serious audiophile and AV installations.
The three-way configuration allows each driver to be optimised to do a better job over a narrower frequency band; the only real way to deliver elevated performance in every respect.
Superlatively natural mid-range comes courtesy of a dedicated 4-inch driver, specially designed with 'under hung' voice coil and motor system.
This technique ensures the voice coil always remains in the magnetic gap under all conditions for demonstrably lower distortion than usually found at this level – an advance which can be immediately heard.
Coupled with higher overall impedance and better overall system damping, the cabinet can be placed close to a wall. However, this is a serious audiophile speaker, capable of delivering seismic levels of bass extension.
For optimum performance, a distance of just 12 inches (30 cm) is needed between the speaker and wall, allowing the system to breathe and perform optimally.
High overall sensitivity makes this new Monitor Audio Silver 300 Speakers easy to drive with a modest, high-quality amplifier delivering precise, dynamic music or film to fill a medium to large room.
Superlative Three-Way Design:
For getting the maximum performance from these exceptional speakers through bi-wiring or bi-amping.
The Monitor Audio Silver 300 Speakers provides two pairs of bespoke high-quality gold-plated binding posts connected by wire jumpers.
The terminals are color coded for easy hook-up.
"The Monitor Audio Silver 300 Speakers plays far bigger than its cabinet size, driver complement, and price would suggest, with robust dynamic authority.
It's also very easy to drive; the Esoterica F-03A's 30Wp was more than enough power," reports Robert A. Harley in The Absolute Sound.
Monitor Audio's Silver 6G Series:
Revered by audiophiles around the globe, Monitor Audio Silver 300 Speakers enters its sixth generation with a host of new features to make it the best-performing ever.
Taking hi-fi and home theater performance to a new level. The new Monitor Audio Silver 300 Speakers series utilizes technological advances derived from Monitor Audio's top-of-the-line Platinum Series II.
It features a completely redesigned 1" gold dome tweeter for precise treble. And it looks as it is good as it sounds, offering stunning real wood veneer, piano lacquer, and contemporary satin white finishes to suit every setting.
Continuous Uninterrupted Dish Drivers:
Unlike conventional driver cones, the new C-CAM (Ceramic-Coated Aluminum/Magnesium) RST (Rigid Surface Technology) bass and midrange drivers take the form of a continuous uninterrupted dish.
Strengthened by a uniquely dimpled surface, their greater area radiates more sound, and driven by a larger voice coil and motor, delivers greater efficiency and a cleaner, more accurate response.
Bolt-Through Driver Design:
Single bolt-through driver fixings have the dual effect of improving cabinet rigidity while further reducing vibration at the driver/cabinet interface.
By this innovative method, drivers are mounted on a single tensioned through-bolt, which is secured to the back of the cabinet.
The bolt not only acts as a rigid cabinet brace to reduce box coloration, but it also removes the need for conventional driver fixings as well, effectively decoupling the driver and baffle to eliminate another source of unwanted resonance.
The result is a more fluid communication of mid-range frequencies, and with the absence of front driver fixings, a cleaner more refined overall appearance, especially in tandem with RX's 'invisible' magnetic grille location.
HiVe II (High Velocity) Reflex Port:
Developed for the flagship Gold Signature range, the HiVe II reflex port is shaped to have the same effect on airflow as a gun-barrel on a bullet.
Rifled grooves inside the port help to accelerate the flow and reduce turbulence so that air moves in and out of the port more efficiently for a faster more dynamic bass response.
Specifications of the Monitor Audio Silver 300 Speakers:
Freq Response (Hz)
32 - 35,000
Speaker Enclosure Type
Bass reflex - rear port
Speaker Dimensions WxDxH (mm)
252 x 367 x 1034 (including feet and spikes)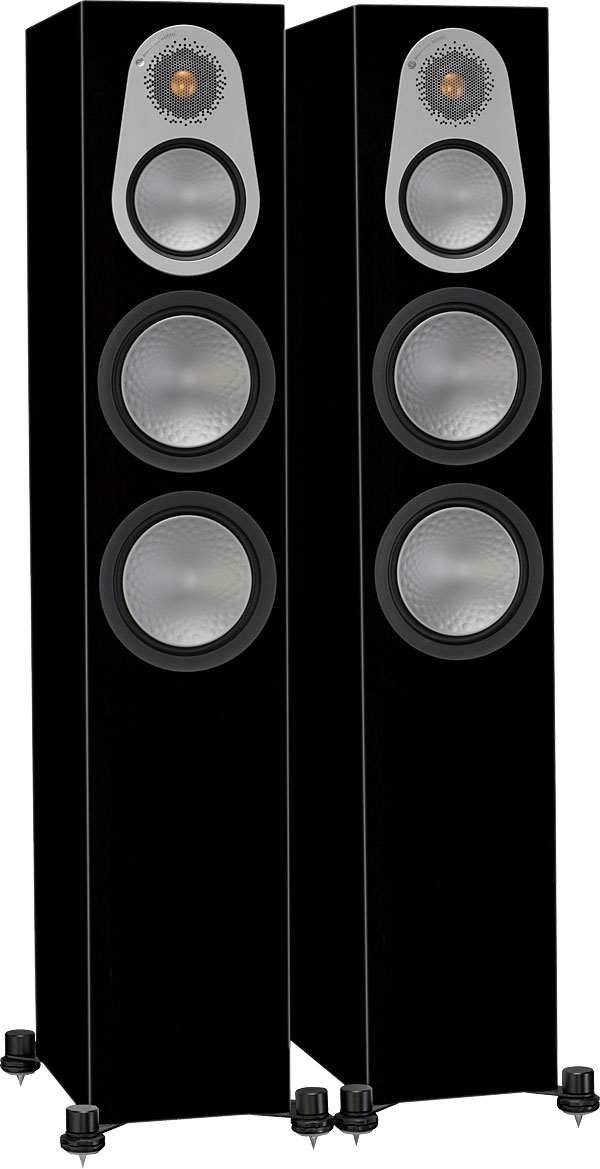 For more Monitor Audio products visit their website: https://www.monitoraudio.com/
Visit our website for more Monitor Audio products at the best prices: https://www.soundxshop.co.za/product-category/shop-by-brand/shop-by-brand-monitor-audio/
Address
149 Monument Road, Aston Manor, Kempton Park