Get The Best Deal On This Premium Product – Contact Us
Description of the Monitor Audio Silver 100 Speakers:
The Monitor Audio Silver 100 Speakers is a serious audiophile speaker capable of producing remarkable resolution, from the most intricate musical scores to the loudest rock concert, with superlative ease.
High output and effortless dynamics make the Monitor Audio Silver 100 Speakers an ideal choice for medium to large rooms in two-channel stereo or multi-channel applications.
The Monitor Audio Silver 100 Speakers is the larger of two standmounts in the Silver 6G Range.
As the numeric suggests, this is the sixth iteration of the Silver Series of speakers – a range that dates back to the nineties.
Back then, it was a simple enough business. You had Bronze, Silver and Gold to choose from and that was your lot.
These days, Monitor Audio has another complete range of speakers in the form of the Platinum range as well as whole series of custom install and lifestyle speakers.
In all of this, the role of the Monitor Audio Silver 100 Speakers hasn't changed radically. It represents a step up from the entry level Bronze models and allows Monitor Audio to implement more of the technologies and thinking that makes for their ideal speaker.
This is subtly different from a number of rivals like the KEF Q Series which now represents the entry point for the brand. Another subtle difference is that the Silver 6G range is unusual in 2017 in that it includes two centre speakers and a dedicated surround design.
Partnered with the company's in ceiling models, this is one of the more affordable options for specialist multichannel.
The Monitor Audio Silver 100 Speakers meanwhile is also an interesting object in its own right. If you were looking at the pics and thinking "that looks a bit bigger than normal" you'd be right.
In a field of designs that generally use drivers between 5 and 6.5 inches in size, the Monitor Audio Silver 100 Speakers uses an eight inch design.
What are the effects on performance and usability and does this make it – as Monitor Audio claims – "a serious audiophile speaker"?
Take the bass driver, this is a continuous cone with no dust cap. This allows for the driver to be a single section without any perforations to weaken it.
Additional strength is then added via the principle of Rigid Surface Technology (RST).
This examines the driver via the process of Finite Element Analysis and adds strength where needed in the form of the dimples that start towards the centre of the cone and gradually deepen as you head to the outer edge.
The result is that the driver weighs effectively no more than it would be it smooth and is considerably stiffer.
Monitor Audio Silver 100 Speakers features a massively powerful 8-inch C-CAM RST bass/mid driver rigidly fixed into a relatively compact two-way cabinet in a configuration that while relatively traditional by modern standards has a lot to offer.
There is no real substitute for big drivers and their relative ease of moving air efficiently.  Thus, they can deliver incredible dynamic headroom and bass extension, a feature normally reserved for floorstanding speakers.
A two-way, ported design, the Monitor Audio Silver 100 Speakers relies on a new, 25 mm C-CAM tweeter made from the brand's proprietary Ceramic-Coated Aluminium/Magnesium, and featuring a vented Neo magnet system, to create the cleanest possible highs.
The HF unit is coupled with a specially-designed 8-inch bass/mid driver featuring a concave 'dished' C-CAM cone profile for incredible levels of damping and improved mid-range clarity. You'll certainly hear the difference with Silver.
Technology of the Monitor Audio Silver 100 Speakers: 
Unique RST Cone profile for best diaphragm rigidity and lowest distortion
Proprietary-build ring/voice coil-cone coupling mechanism (DCF) optimised to reduce high-frequency cone break-up and increase the critical voice coil circumferential rigidity
Cast-polymer driver chassis design for improved rigidity and damping characteristics
HiVe II port technology ensures linear transient response and tighter bass, due to smoother airflow
Pureflow silver-plated OFC copper internal cabling means the highest-quality transfer through the signal chain
High-quality crossovers with premium grade, bespoke polypropylene film capacitors, air-core and low-loss laminated steel-core inductors for maximum signal transfer
Specifications of the Monitor Audio Silver 100 Speakers: 
| | |
| --- | --- |
| System Format | 2-way |
| Frequency Response (-6 dB) | 40 Hz – 35 kHz |
| Sensitivity (1W@1M) | 88 dB |
| Nominal Impedance | 8 ohms |
| Minimum Impedance | 4.5 ohms @ 167 Hz |
| Maximum SPL | 112 dBA (pair) |
| Power Handling (RMS) | 120 W |
| Recommended Amplifier Requirements | 40 – 120 W |
| Bass Alignment | Bass reflex. HiVe II port system |
| Crossover Frequency | 2.8 kHz |
| Drive Unit Complement | 1 x 8-inch RST bass/mid driver1 x 1-inch (25 mm) Gold Dome C-CAM tweeter |
| Cabinet Dimensions (excluding grille and terminals) | 375 x 230 x 300 mm |
| External Dimensions (including grille and terminals) | 375 x 230 x 329 mm |
| External Dimensions (including out-rigger plates, feet and spikes) | N/A |
| Weight (each) | 9.3 kg |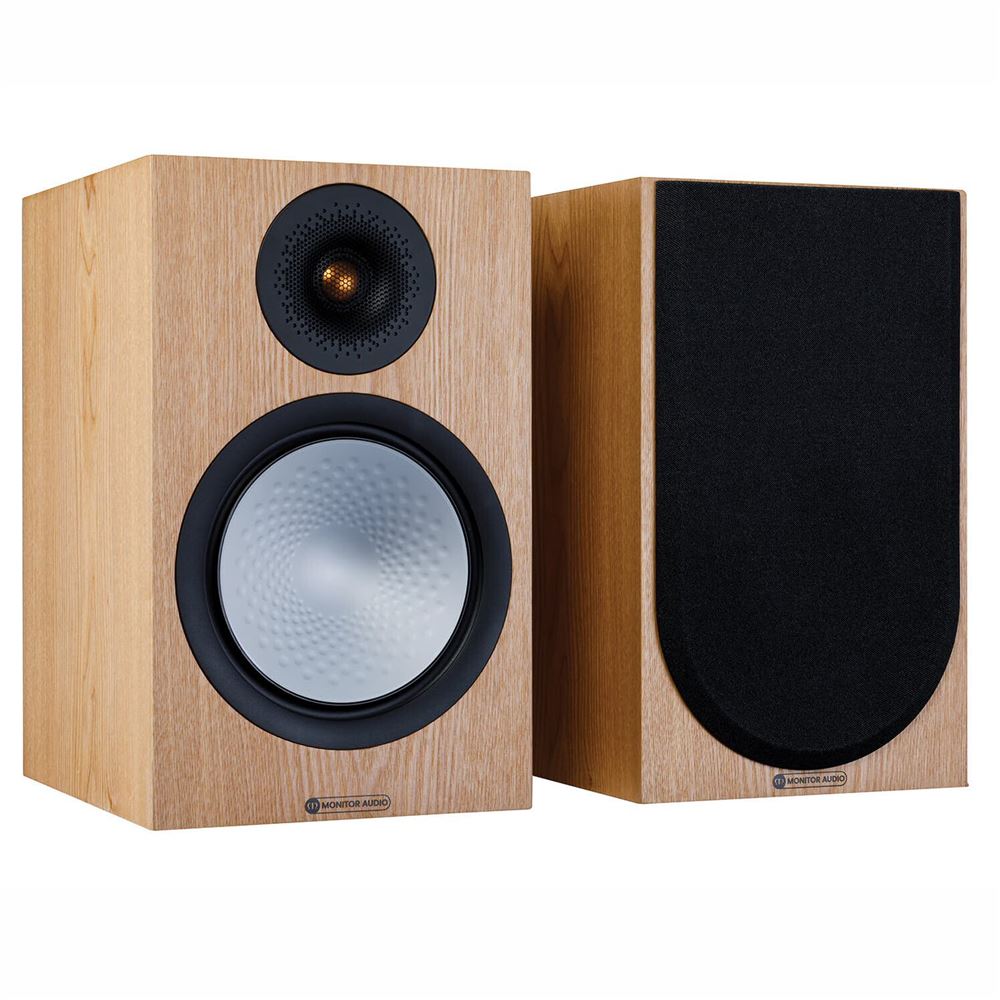 For more Monitor Audio products visit their website: https://www.monitoraudio.com/
Visit our website for more Monitor Audio products at the best prices: https://www.soundxshop.co.za/product-category/shop-by-brand/shop-by-brand-monitor-audio/
Address
149 Monument Road, Aston Manor, Kempton Park