Get The Best Deal On This Premium Product – Contact Us
Description of the Monitor Audio 3-way SS300 Speaker: 
The Monitor Audio 3-way SS300 Speaker retains the familiar award-winning configuration of its predecessor, with several crucial improvements to drivers.
Ideal for larger rooms and dynamic music and movies, the Monitor Audio 3-way SS300 Speaker leaves a lasting impression. The three-way design means there's a separate unit dedicated to midrange frequencies - typically vocals.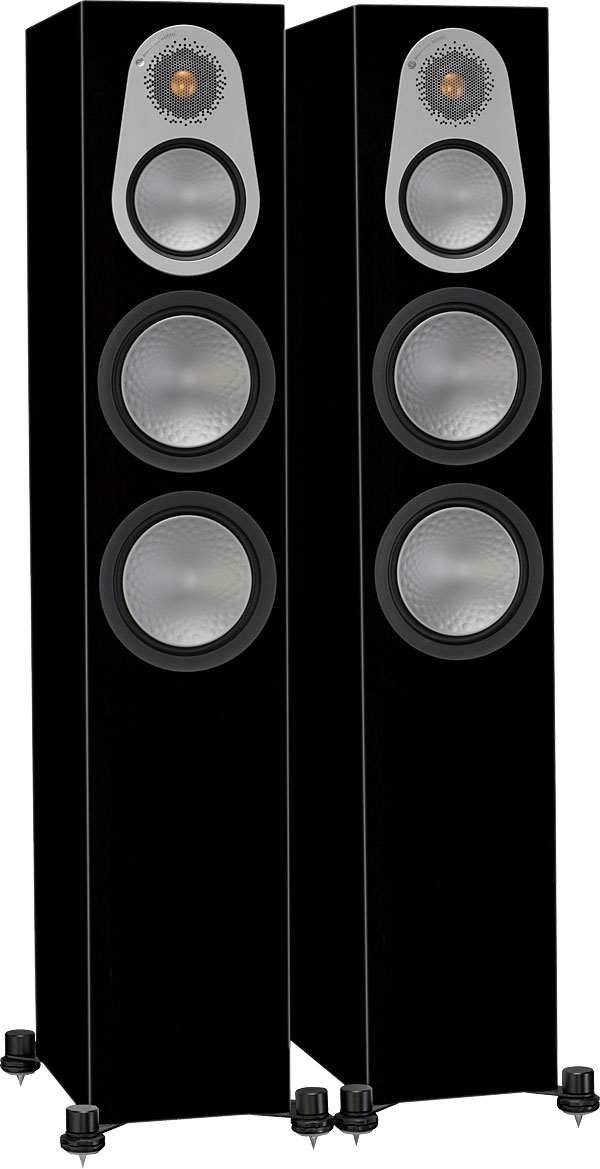 With twin drivers left to get on with the job of producing bass, this is a genuine full-range speaker that doesn't require the services of a separate subwoofer to get to the bottom of the music.
The full Monitor Audio 3-way SS300 Speaker design delivers class-leading mid-range, while a pair of long-throw 6½-inch bass drivers work together to produce incredible power from the tall, but slim cabinet design.
Making it the perfect choice for serious audiophile and AV installations. Featuring a completely new version of Monitor Audio's iconic gold tweeter dome, the treble response is better than ever.
Tuned for a crisp, low distortion sound, the top-end is sweeter than ever. The 6" bass cones and 4"mid-range units feature distinctive RST (Rigid Surface Technology).
Inspired by the Japanese art of Origami, the lightweight cones are made more rigid by the precise pattern of surface dimples. It makes the mid-range open and natural-sounding.
The Monitor Audio 3-way SS300 Speaker configuration allows each driver to be optimized to do a better job over a narrower frequency band; the only real way to deliver elevated performance in every respect.
Superlatively natural mid-range comes courtesy of a dedicated 4-inch driver, specially designed with an 'under hung' voice coil and motor system.
This technique ensures the voice coil always remains in the magnetic gap under all conditions for demonstrably lower distortion than usually found at this level – an advance that can be immediately heard.
Coupled with higher overall impedance and better overall system damping, the cabinet can be placed close to a wall. However, this is a serious audiophile speaker, capable of delivering seismic levels of bass extension.
For optimum performance, a distance of just 12 inches (30 cm) is needed between the speaker and wall, allowing the system to breathe and perform optimally.
High overall sensitivity makes this new Monitor Audio 3-way SS300 Speaker easy to drive with a modest, high-quality amplifier delivering precise, dynamic music or film to fill a medium to a large room.
Despite its relatively modest size, this beautiful speaker created a huge, lifelike soundstage that left a smile on my face. Read on for a closer look at what's under the hood, along with some notes from my listening session.
The Monitor Audio 3-way SS300 Speaker is part of Monitor Audio's Silver "6G" Series — the sixth generation of the company's "sweet spot" speaker lineup, which falls between their Bronze and Gold Series speakers.
The Monitor Audio 3-way SS300 Speaker is a step-up from the Silver 200, sporting an additional woofer and a three-way design.
Great sound starts with a high-quality enclosure:
The clear, distortion-free sound of the Monitor Audio 3-way SS300 Speaker is in part due to its carefully designed rock-solid enclosure, which resists vibration that can color sound and reduce clarity.
The included outrigger feet screw into the bottom of the speaker to provide a sturdy foundation.
Powerful and articulate bass and midrange:
The Monitor Audio 3-way SS300 Speaker uses two 6" woofers to dish out hard-hitting, responsive bass that adds soul and punch to music and movie soundtracks.
A dedicated 4" midrange driver lets the woofers focus solely on low frequencies.
Monitor Audio uses an advanced crossover network to ensure smooth, full-range sound throughout this speaker's frequency range.
Crystal-clear high frequencies:
One of the coolest things about the Silver 6 Series is that each speaker in the lineup — regardless of design or size — uses the same 1" gold dome tweeter.
This ensures that you're getting clear, detailed highs and realistic reproduction of instruments, vocals, and dialogue from every speaker in your system.
Use a pair of the Monitor Audio 3-way SS300 Speaker as part of a high-end stereo system or as the front channels of a Monitor Audio home theater system.
A welcome addition to your décor:
The Monitor Audio 3-way SS300 Speaker is available in a variety of beautiful real-wood veneer or high-gloss finishes.
And Monitor Audio tops the Silver 300 off with an attractive "floating" magnetic grille that features invisible attachments to give it a clean, classy look.
With technology from the Platinum series:
Evolved from the reference quality Platinum models, the Monitor Audio 3-way SS300 Speaker features DCF (Dynamic Coupling Filter). This replaces the usual, solid coupling of driver and voice coil with a flexible coupling.
This helps damp any surplus energy, aiding the precision of sound. The perforated design also helps with cooling and pressure relief – giving enhanced efficiency.
Cabinets designed with help from the NationalPhysical Laboratory:
Designed with the aid of a precision laser scanner from NPL (National Physical Laboratory), the handcrafted cabinets are exceptionally well built.
The scanner identified areas of cabinet resonance making the placement of the bracing pin-point accurate. Ultra-low cabinet distortion lets the drive units perform unimpeded, giving you the clearest and most natural sound going.
Slim-line and superbly finished to match your decor:
Available in a wide range of premium real wood veneers and high gloss finishes, the Monitor Audio 3-way SS300 Speaker looks every bit as good as it sounds. The new tweeter features a smart speckled finish for an individual style.
A slim-line design with a rear-mounted port looks sleek and makes these speakers unobtrusive in your home. Magnetically attached grilles give a clean appearance when removed - ideal for showing off those hi-tech drive units.
Specifications of the Monitor Audio 3-way SS300 Speaker: 
Brand

 

Monitor Audio

Bi Wireable 

Yes

Sensitivity (dB) 

90

Impedance (ohms) 

8

Power Rating (Watts) 

200

Freq Response (Hz) 

32 - 35,000

Speaker Enclosure Type 

Bass reflex - rear port

Weight (KG) 

20

Speaker Dimensions WxDxH (mm) 

252 x 367 x 1034 (including feet and spikes)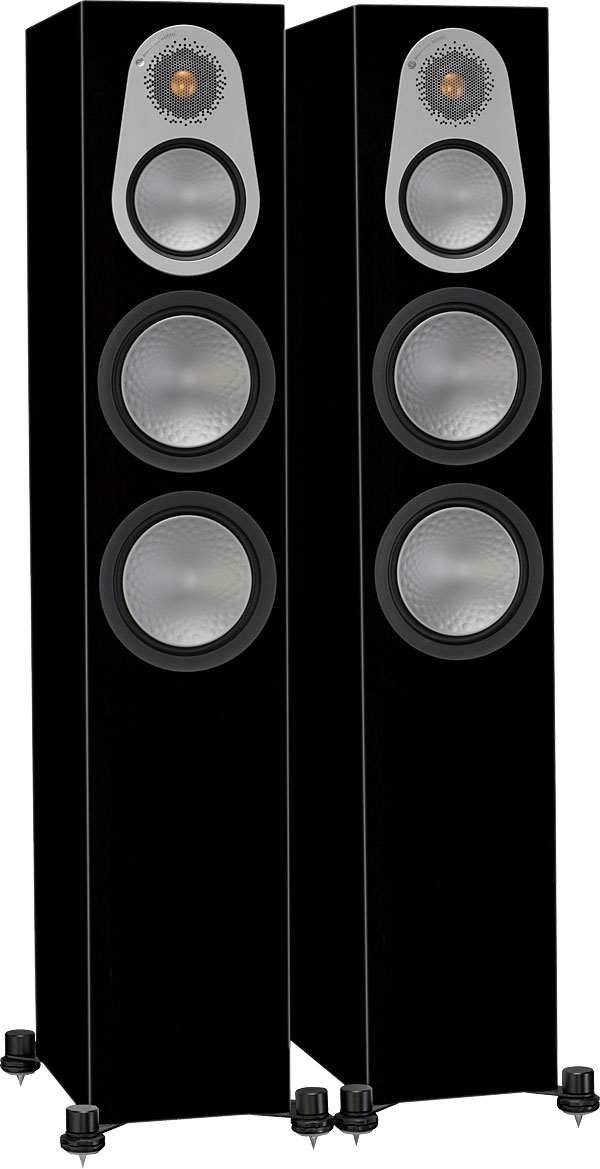 For more Monitor Audio products visit their website: https://www.monitoraudio.com/
Visit our website for more Monitor Audio products at the best prices: https://www.soundxshop.co.za/product-category/shop-by-brand/shop-by-brand-monitor-audio/
Address
149 Monument Road, Aston Manor, Kempton Park